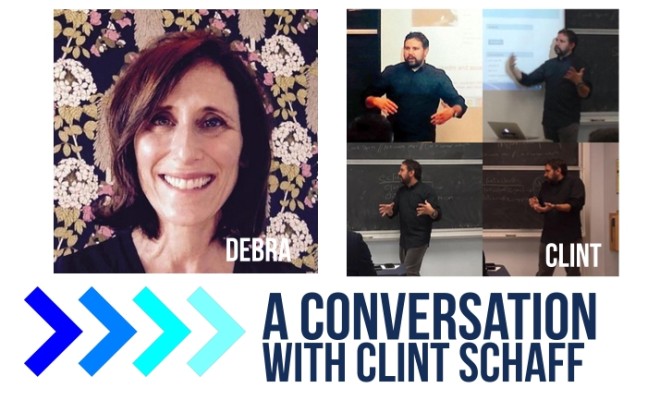 WEEK 1: A Conversation with Guest Speaker Clint Schaff by Debra Markovic
|
Clint Schaff likes to move. In fact, he can hardly contain himself. He paces, pivots, bounces up and down; he gestures and gesticulates. He turns the narrow space in front of the blackboard of Math Sciences Room 5127 into a tunnel of energy. He can also talk remarkably fast, which is a little challenging for the earnest bloggers-to-be who are sitting in front of him during the first session of Best Practices in Social Media for the Communications Professional, a class offered through UCLA Extension.
Apparently I talk with my hands. A lot. Guest lecturing at @erikdeutsch's #SocMedUCLA class tonight. pic.twitter.com/stRuW2p8Vr

— Clint Schaff (@clintschaff) October 14, 2015
But we forgive the pace, because Clint's energy is compelling, contagious, friendly… social, which makes perfect sense, because Clint is a world class digital and social media marketing strategist. Currently, he is the Vice President and US General Manager of Camp Playa (formerly known as DARE Digital), the new Los Angeles outpost for Canadian-headquartered integrated marketing communications firm Vision 7 International.
Clint loves being social. He explains that he grew up in a small town in South Dakota where relationships meant everything to him. And he's clear about the fact that real relationships and community building, both on and offline, are what lie at the heart of successful social media campaigns. That said, Clint is equally clear that business goals must be well defined and firmly in place before a social media marketing plan comes into play. He stresses, "Every business interaction must start with the question: What problem do you have to solve?" Content creation follows. Evaluation (tracks, links, buys) comes last, because "the numbers have meaning only if they're connected to goals." Clint uses the acronym POST, which is a great way to remember the plan:
P – people you want to reach
O – objectives
S – strategies
T – tactics/tech
This approach worked well when Clint took on the challenge of Proctor & Gamble's decreasing sales in New York City by creating site-specific messages about NYC problems that P&G products could solve. When the slogan "Garlic pizza breath is tough… Crest is tougher. #NYTough" appeared next to a NYC pizzeria, the community paid attention and bought more Crest. ☺
In addition to POST, Clint's a big fan of editorial calendars and content playbooks, which help clients anticipate and vet content that might be risky, but also has the potential to provoke a successful reaction. Such tactics also help protect brands from rogue internal social media managers who may (in error or deliberately) post whatever they want! It was inspiring to be in the presence of such a passionate #PR pro and to experience first-hand the energy responsible for so many creative endeavors.
"I'd rather engage in a Twitter convo w/one customer than attract millions in a Superbowl commercial." #socmeducla https://t.co/novH9mGXjp — Debra Markovic (@Debra_Markovic) October 24, 2015