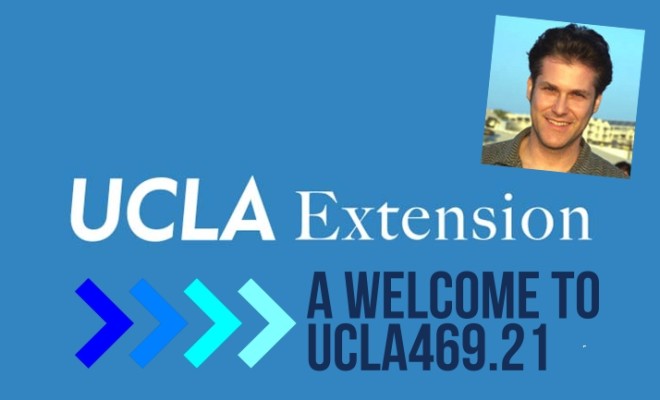 Welcome to UCLA469.21
|
Today is an exciting time to work in the communications field, as technology empowers just about everyone to listen and be heard like never before. It's a brave new world filled with previously unthinkable opportunity, as well as peril.
This course is designed to bring communications professionals up-to-speed on the latest strategies and tactics for social media success. We have some amazing guest speakers on the schedule. Each is a respected authority in his or her area of expertise… so be prepared to ask lots of questions during each in-class discussion.
For those already familiar with the course, you may notice that this blog and the overall course branding look a bit different than in the past. I've been teaching "Best Practices in Social Media for the Communications Professional" since the Fall of 2010, when it was launched as UCLA X425. I worked with students to make the most of the "425" moniker, creating our crowdsourced course blog (www.UCLAx425.com) and using the course hashtag (#UCLAx425). Fall 2012 student Kim Tronic even produced a rap video jingle for the class dubbed "Jive with X425" (check it out on YouTube). But all that branding had to be reinvented in 2015, when the course was renamed UCLA X469.21.
The new moniker may not be as catchy as the old "425," but it represents an exciting shift in how UCLA Extension manages the PR Certificate Program. The entire PR course lineup is now under the purview of the renowned UCLA Anderson School of Management. As a result, PR course numbers are five digits beginning with "469."
Rather than rely on our new course number for branding, I decided to go with the text-based "SocialMediaUCLA" handle, which we're using for this blog, our Twitter hashtag (#SocMedUCLA") and other online platforms.
I look forward to seeing you Monday evenings between April 24 and June 5. Of course we'll also stay in touch online in between class sessions as we work together to write another chapter of "Best Practices in Social Media for the Communications Professional."
Erik Deutsch
Instructor, UCLA X469.21
Best Practices in Social Media for the Communications Professional
@ErikDeutsch