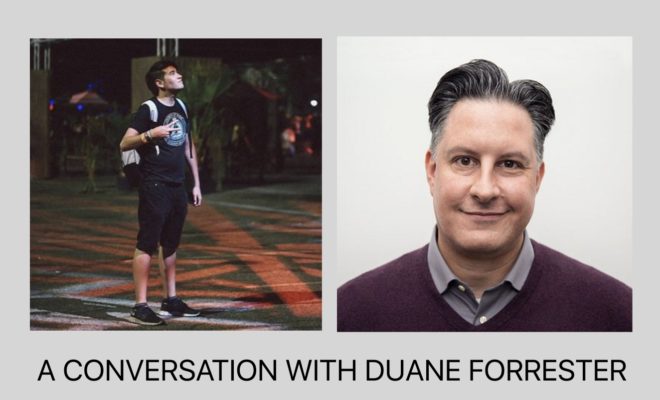 WEEK 3: A Conversation with Guest Speaker Duane Forrester by Taylor Barnes
|
On Monday, May 8, UCLA Extension's Best Practices in Social Media for the Communications Professional class was graced with an engaging guest lecture from SEO specialist Duane Forrester.
Duane began the discussion by describing his entry into the SEO field. He started his career as a digital marketing specialist for Caesar's Palace in Canada. It was early in the development of SEO, and he was able to achieve strong search rankings through crude "keyword spamming." This involved including a keyword or key phrase more times than the nearest competitor, which caused the page to rank higher than competitors for the keyword term.
Duane pointed out that as digital marketers increasingly used such techniques, search engines became more sophisticated. The result was that engineers at Google and elsewhere made sure to render keyword spamming useless. In fact, the Google we know today goes a step further to even penalize sites filled with repeat keywords.
Duane now works for Yext — a data platform that allows businesses to update their listings in real time on search results pages. While his current job involves much more than just search optimization, he explained to our class the process that occurs when search engines process a search request. That process can broken down into four stages: crawl, index, rank, and results.
That process can broken down into four stages: 1) crawl, 2) index, 3) rank, and 4) results.
The initial Crawl occurs when bots spread out across the web to search pages for all mentions of a search term.
During the index stage, data about each page is collected and stored for information retrieval.
Each indexed page is then assigned a rank using algorithms that determine the quality of the page. Many factors go into the ranking pages, including the domain name extension. For example, pages with a ".gov" or ".edu" extension outrank those with a ".com."
Lastly, the search engine displays the results for your search terms. Google and other major engines currently update (i.e., auto fill) results in real time as you type each character of the search term.
While discussing the importance of SEO. Duane also mentioned the role of PPC (pay per click) advertising, and how the two marketing tools can work together. While SEO focuses on building organic search results, PPC involves paying for clicks via keyword ads. PPC leads to more immediate results, but SEO provides the best long term strategic growth. It's best to integrate all the tools — social, SEO and PPC — to gain maximum lift.
Duane also discussed Google's keyword planner, which is a useful tool. While it was once free for everyone to use, it's currently available only to paying Google AdWords customers. Therefore, Duane suggested Google Trends as a free alternative that offers similar benefits.
Using Google Trends, a marketer can research the stability of a search term. For example, if the term "Travel Guitar" appears to remain fairly stable, it's generally safe to assume it's worth using. Additionally, Google Trends allows users to compare two search terms to help choose the ideal term for SEO. Duane used the example "Travel Guitar" vs "Travel Guitars" to show how the singular term performs much better than the plural. He employed such information to help optimize his own guitar-themed blog Guitarlovr.com.
Duane covered a ton of valuable information and used a variety of helpful analogies and real life examples to bring these concepts to life.