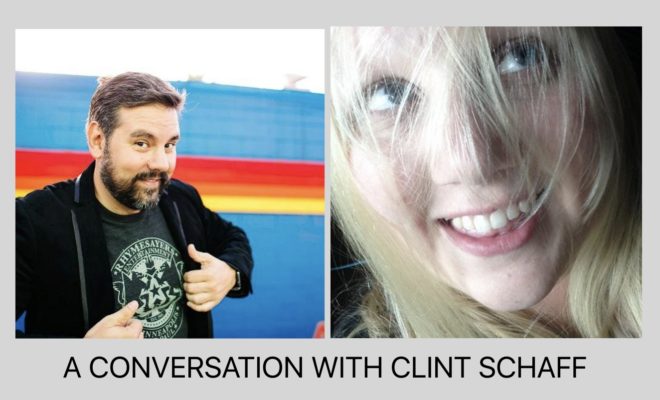 WEEK 1: A Conversation with Guest Speaker Clint Schaff by Marke Liimatainen
|
I believe there's only one person who can seamlessly tie together North Dakota, Hanson Brothers, The White House and Hip Hop, and that person is Clint Schaff, VP of Strategy & Development at the Los Angeles Times.
Clint owns the room as soon as he walks in. After the mandatory bro-hugs with Erik Deutsch, instructor of "Best Practices in Social Media for the Communication Professional," Clint starts his presentation titled "Putting Social Back in Social Media." He moves fast and speaks even faster. His stories are interesting and engaging. We soon learn that Clint was a contestant on the American reality show "Average Joe," but was cut from the show early for reasons we'll soon understand. Most likely it's because there's nothing "average" about Clint Schaff.
Clint, who also goes by "Clito," "Cleezy" and "Big Cleez," has seen and done it all. Social Media is his playground, and "Clito" is the coolest kid out there. Seeing glimpses of one of his recent projects (a social media playbook for an online dating company) was an eye-opening experience. The playbook is a user manual for a company's social media presence. Clint and his team provided guidelines and instructions for how to post, where to post and when to post. While explaining the importance of establishing such a playbook, he reminded us that things can and will change quickly. This was the first time I had heard about such a social media playbook, and I'm already thinking about how to use Clint's examples on my own social media channels.
On this very average Monday, "The Big Cleez" truly helped our class put the social back into social media. His presentation was filled with useful (and sometimes a bit off topic, but consistently hilarious) information. Most notably, Clint walked in with so much energy and knowledge that his presence gave us a huge dose of much needed #MondayMotivation. The American reality TV audience doesn't know what they missed, but our class definitely enjoyed his Week One show. "Cleezy" was right… "This social media shit is awesome."
Thanks again, Clint!!