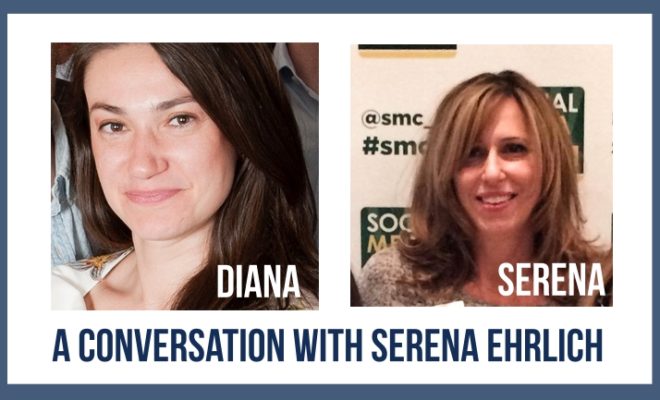 WEEK 1: A Conversation with Guest Speaker Serena Ehrlich by Diana H Petersson
When all you got to do is move around the room… "the social media room"
Just like when you're #networking a room and moving around so as to NOT get stuck with that one person who's your safety-blanket, you need to "move" around the "Social Media Room" in order to be an effective marketer.
Last week's quest speaker – Serena Ehrlich (@Serena), director of social and evolving media for Business Wire – was phenomenal as she explained this concept from different perspectives! Following class I wasn't just inspired; I also learned a lot.
What did I learn? Well, you'll have to enroll in the class to really get the whole package… but keep reading and you might find out a thing or two.
One key message I took with me was the value of TEST-ing. Much as you test, try different things and move around when networking a room, you need to test and try different types of content (videos, GIFs, pictures, etc.) and posting techniques on various social media platforms to determine what works best for carrying out your social media strategy.
Entering the room, Serena's personality really shines. She began by pulling out a table (yes, this is correct) to sit on with her legs crossed while talking, laughing, and interacting with the class. As the conversation gets underway, we get to hear more about how some social media platforms are transitioning from organic to paid, and how Facebook really comes out of this transition as the big winner. After attracting and locking-in many brands via its "free" marketing platform, Facebook then shifted to a "guess what – no you have to pay up!" approach.
Serena went on to provide some great updated tips for how brands can still leverage free tools provided by Facebook and LinkedIn – all without having to pay up. She further explained that Facebook is algorithm-based and focused on promoting the best content! Therefore, All YOU (Big pointy finger directed at you) have to do is figure out what FB's algorithm wants to promote.
Right now? Right now FB wants your native video!
Serena says, "Do the test! Try different content and look how many likes you get. Look at the data!" Her advice is to try and test what works in the social media room until you find that "elevator speech" or strategy that gets you the network, I mean the followers! 😉
To top it off, Serena went through the following steps for implementing your Social Media Strategy:
Step 1: Determine your top goals. Sit down and talk about goals!
Be realistic! What are your top goals? Is one to generate traffic? Getting 10,000 page views is not a goal, it's a metric.
Step 2: SWOT Analysis – Strengths, Weakness, Opportunities and Threats.
Who are your competitors? Study them. Do your research of the competitive landscape, how active and how smart are your competitors, how often do they post, what type of content, which platforms do they use, etc.?
Step 3: Do a media pickup search!
Do a news search of your competitors and try to identify what's organic and what's paid. Strong social presence can signal a paid influencer campaign. Gather data! You can use Google News to create a roadmap that will help you conclude "We need to do this and this."
Step 4: Build an editorial calendar!
Create a content calendar that will help you plan and bring order to your social media efforts. Start with any events (e.g., major holidays) that can impact your business. Start with a spreadsheet and put events on one axis and platforms (blog, Twitter, Facebook, etc.) on the other. Read more: Tip of the day: Why You Need an Editorial Calendar by Serena Ehrlich.
Step 5: Start testing!
Create an inventory of your content assets (video, pictures, etc.). If you don't have any, start creating some. Then start testing to find out what works!
Finally, a few quotes of the day:
"Think Visual!"
"Learn about social media on the web. Reddit is one of those sites where you can search 'Teach me like I'm five!'"
"When you want to make sure people really see it, pay for it!"