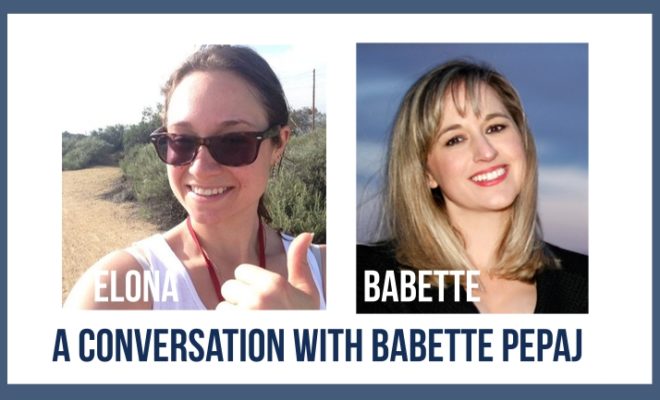 WEEK 5: A Conversation with Guest Speaker Babette Pepaj by Elona Shishelovskaya
|
The phenomenal Babette Pepaj, founder and CEO BakeSpace.com and the TECHmunch traveling food blogger conference, launched her food-themed social network in 2006. Prior to that, she produced and directed television. But by 2006, she was ready to make a change, and social media was a natural fit for the soon to become ex-producer. Intrigued with how social media was beginning to transform marketing, Babette recognized that  companies would need to produce content and build an online base of fans. Interestingly, she has come full circle, having started in television and now doing live online video.
When it comes to social media, there's something for everyone; people with every personality will find a match and content that fits their interests. From Google Hangouts to Periscope to Youtube Live to Blab, there's a video format that's just right for you to discover.
Babette's philosophy for BakeSpace.com and its value proposition for sponsors is based on the premise, "there's no better way to get people to talk about your brand at the dinner table, than to help them make dinner!" A big question marketer's need to decide on is whether or not to work with an influencer. But the real question they should address is WHY they want to work with an influencer? What is/are the company's goal(s)? Is it brand awareness, building credibility, etc.?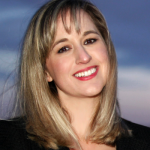 Once you can answer the question regarding "WHY" you want to work with influencers, you then need to figure out HOW to find influencers. According to Babette, marketers must understand how to master Google keywords, Twitter search, Instagram followers, Pinterest posts, online and offline events, influencer networks, etc., in order to find influencers who will be a good fit.
@bakespace @ErikDeutsch #SocMedUCLA #shemadeit #thestrugglewasreal pic.twitter.com/7umip96Lyg

— Elona Shishelovskaya (@Love_Elona) May 4, 2016
FINDING INFLUENCERS: 
When discussing various platforms Babette provided a few tips to optimize their use:
Twitter: Use hashtags, follow topics, research competitors, monitor relevant info (e.g., a company like Driscoll's Berries wants to know who is talking about blueberries, just as Chobani wants to follow yogurt-obsessed fans). A good place to start is to review your Twitter analytics.
Instagram: Do a deep dive into hashtags to find relevant users.
Websta.me: This tool enables you to find Instagram users who are using your most relevant keywords.
Pinterest: Start with users who are pinning your products/web pages to find your super fans.
Hashtracking.com: This tool allows you to search hashtags on Twitter and Instagram.
Influencer networks:

Speakr.com (Vine)
HelloSociety.com (lifestyle tastemakers)
Snapfluence.com (Instagram)
Snapchat: Create a custom geofilter to promote your company or event. Before designing your geofilter, perform a Google search of other filters to see what works and what doesn't. Keep in mind the filter image will be in front of the rest of the photograph, so don't make it too big. The goefilter will be available to Snapchat users based on location. The cost to provide the geofilter will vary depending on the location's popularity. Pricing also depends on the volume of people at an event, since you are competing against others who want to create a filter tied to the event. For example, to create a geofilter for SXS'mores (a S'mores tasting party during SXSW), Babette paid $15 for 10 hours. For more info, check out www.snapchat.com/on-demand. 
Had a blast at the @bakespace event and of course loved the @Snapchat filter! So cute! #Sxsw #SouthBites #SM pic.twitter.com/Dx9byaTqGO

— Hannah Miller (@HannahMoMiller) March 15, 2016

HOW TO WORK WITH INFLUENCERS:
Reach out before you need them, and become friends with their friends.
Don't assume you can get anything by them.
Don't work with them because you think it will be cheaper.
Don't pretend to be "one of them" and turn around and pitch them.
Don't assume they don't share pitches with each other on Facebook groups.
Go offline and make real connections – like you'll make at influencer events such as the TECHmunch Food Blogger Conference
CUSTOMER SUPPORT ADVICE:
You can prevent a small problem from becoming a crisis by responding right away. Do not be tooooo nice, because that can seem condescending. Assume that they are smart and may already know what you are going to say.
EVENT ADVICE:
Archive and save your tweets and instagram posts on a site like Storify.com – but remember to search your hashtag within 12 hours because Storify may not find older posts.
Everyone who attends an event is a photographer. Keep in mind that photos posted on public networks can be reused. For example, at TECHmunch LA, Disney sponsored a booth to promote the film "Inside Out." They invited food bloggers to snap photos of their themed-donuts (based on the characters in the film), and then reposted those photos on various social media platforms.
VIDEO: 
Babette will be producing TECHmunch Live (June 24 & 25th) through Blab.im.  Video is great to attract customers. Babette also uses Google Hangouts, Blab.im and Youtube Live to shoot her web shows. Each platform has it's pros and cons:
Google Hangouts auto publishes to Youtube
Blab.im allow users to pop in to a video (be careful who you invite in… they might take over your show or start talking about topics that are not part of your plan)
YouTube is highly optimized for search
Blab & YouTube provide embed code that you can share before event on your own website
Google Hangouts allows you to email your followers prior to going live to RSVP
To get people to tune in, send an invite to your friends on Facebook, and make it public so all your friends can see it. It's hard to be successful alone; you need to partner with people who have big following. Also, don't rely on the platform to help your site grow. For example, on Blab, everyone is airing their own show, so it's difficult to get them to pop over and join your show. Google Hangouts can be difficult for some guests – they need to update their browser for the latest plugins, etc. Always do a test run before going live. and walk your guests through the technology of any platform – even if it seems easy.