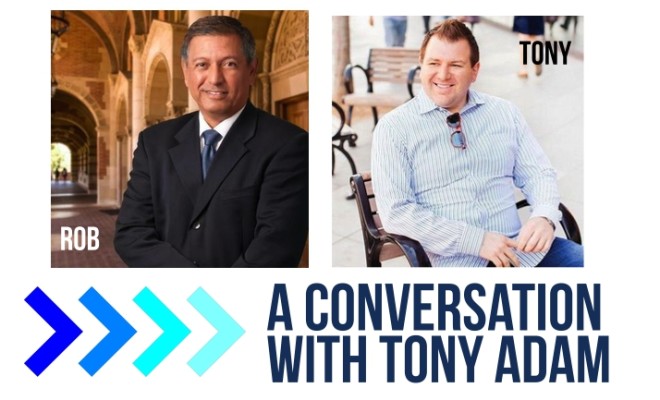 WEEK 5: A Conversation with Guest Speaker Tony Adam by Rob Villanueva
|
I took this course to learn how to use social media for my PR career; but also to help launch my new product-based company. What luck that our guest speaker this week would lecture on the social media area that all businesses need to be successful at doing – and that is Search Engine Optimization (SEO).
Tony Adam – an experienced and successful SEO professional – discussed key areas of SEO that businesses should know before putting their brand out on social media.
Relevance and Authority
Adam recommended taking a holistic approach to developing SEO strategy by focusing on two main attributes – relevance and authority.
Relevance is how closely aligned a company's content, HTML and website architecture are to the terms it uses to be searchable. Authority is the quality of links and the level of trust a website is perceived to have.
Tag… You're It!
Relevance and authority impact how search engines, such as Google, "crawl" a website to find it based on a range of factors including "tags."
Adam explained there are two tags companies need most for SEO. The first, "header" tags (or H1 tags), are words included in a web page's HTML code that search engines use to associate the page with specific search terms. The second, "sub-head" tags, form the write-up (or page description) that appears with a header tag in search engine results.
Understand Your Audience… and the Competition
All good communicators know their audiences before communicating with them. This also holds true for knowing the competition and how they communicate with their audiences.
"Your company and your competitors can look alike, so you need to differentiate yourself to be found among other companies using similar tags," added Adam.
Metrics
Finally, no effort is complete without some sort of measurement to determine success. In the old days, we'd dazzle clients with such things as media impressions, comparable ad value, etc. Today, clients look for SEO ranking, responses from followers, etc. With the social media tools of today and the right strategy, PR practitioners can provide a whole new perspective on their work and their value. Social media has in-turn become an important tool in every PR professional's toolkit. Thank you Tony for sharing your expertise!
#SocMedUCLA Thank you Tony Adam for an exceptional lecture on SEO optimization. A true enabler for any business trying to be searchable.

— Rob Villanueva (@Oceans11Rob) November 17, 2015